Christmas Tree History
The Christmas traditions that we enjoy today are a blend of customs from many different countries, going back several centuries. That particularly applies to the Christmas tree.

Evergreens are believed to have symbolized and celebrated life during Winter Solstice festivities as far back as ancient Roman and Egyptian times.

Primitive cultures of northern Europe believed that evergreens symbolized immortality and possessed divine powers. They brought evergreen boughs into their homes during winter to ensure the return of life (spring) and to protect the home. As Christianity spread throughout Europe, the evergreen tree eventually became a Christian symbol.

The first recorded display of a decorated Christmas tree, historians say, was in 1510, in Riga, Latvia. The tree reportedly was decorated with paper flowers and dried fruit.

By the 1700s, according to the National Christmas Tree Association, the Christmas tree was a popular tradition throughout Europe, but particularly in Germany. Trees were decorated with ribbon, lace, lit candles, food items, and tin.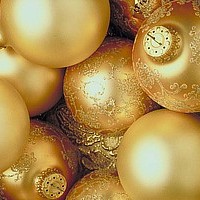 History is a bit fuzzy on the first decorated trees in the United States, though it's generally believed that Hessian solders hired by the British to fight the colonists during the Revolutionary War set up the first American Christmas tree in Trenton, N.J., in 1776.

The tradition was spread across America by German immigrants, who baked fancy ornaments to adorn their trees and then ate the decorations when the trees were taken down.

Americans began to slowly embrace the tradition. In the 1840s, they generally did not have their own trees; rather, community trees were decorated with fruits and nuts, popcorn, cranberries, homemade paper items, candles, and presents. Within a decade, the first commercially produced Christmas decorations would appear.

President Franklin Pierce, the 14th American president, brought the Christmas tree tradition to the White House in 1856.

In the years after the Civil War (1861-65), Christmas traditions extended quickly across the country. Children's books in particular played a significant role in spreading Christmas customs.

By the last part of the 19th century, Americans eagerly anticipated the Christmas season by decorating trees, shopping, caroling, and baking.